Ladies Office Wear Staples – The White Blouse
A white blouse is the lady's office wear staple equivalent to the infamous little black evening dress. It's amazingly versatile and perennially stylish. The right white top can often be paired with almost anything. And having more than one, in different styles, is an ideal starting place for your work wear wardrobe.
The Origins of Ladies White Tops
Historically, white shirts were worn by wealthy men. Wearing one, highlighted the fact that you didn't engage in manual labour. And were able to have your clothes washed more frequently than most. Queen Marie Antoinette is widely regarded as the first woman to be formally captured wearing a white blouse. Her 1783 portrait, set a trend making cotton desirable and starting the white top on its journey towards becoming a wardrobe basic. After this rather auspicious start, white shirts became increasingly more feminine. Designers, like Coco Chanel, aided its appeal with contemporary takes on womenswear. As this happened, its popularity grew, particularly during the 1940s. And so, it became a common sight on women in photo shoots, on catwalks and stages and in movies. Now, a white blouse is an essential, timeless wardrobe stable needed by every woman.
How to Wear a White Blouse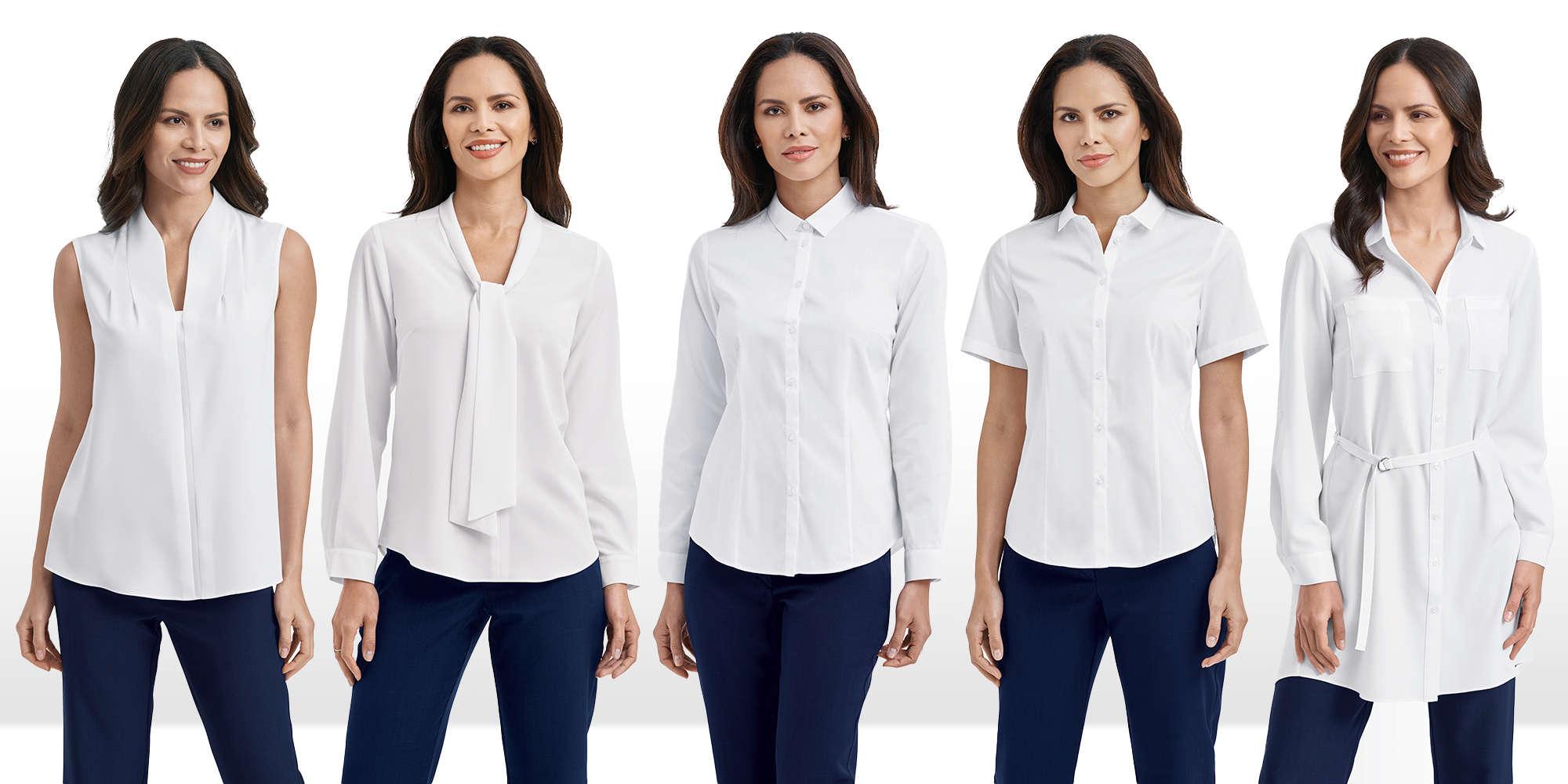 The versatility and style variety of a white top make it a staple in corporate ladies wear. This means that, when you choose one, it's worth thinking about the fit and quality of your white shirt. It's also important that it's comfortable enough to wear for long stretches at a time. Imagine your white blouse as an empty canvas. One which you want to be able to dress up for a business professional or business formal outfit. Or dress down to be business casual. This makes it the basic starting block of a mix-and-match capsule wardrobe.
A plain white or pearl white blouse is a corporate wardrobe stable. This is because it can be paired with pants, a skirt or even layered with a dress. Three fabrics to consider, which are also great options for easy wear, are silky knit, cotton rich and pearl polyester. Many styles of white blouses are able to be worn as professional, formal or casual wear. Therefore, when you decide which top to wear, it often comes down to personal preference. Here are some suggestions to get you thinking about your business attire wardrobe:
Business Professional
A pearl polyester, long sleeve can add a touch of femininity to a business professional look. Look at the simple elegance of a Chanel blouse with its tie detail. Or, alternatively, you could choose a Zintle shirt with wide cuffs. Foundational items in a corporate professional wardrobe are cotton rich short sleeve basic and long sleeve basic shirts. They fit well under blazers, are chic with a scarf and go well with both skirts and pants.
Business Formal
Sleeveless blouses and tops are easily able to be dressed up or down simply by having a blazer on hand. Think along the lines of a silky knit Payton top, which has cross over front, pleat detail. Alternatively, a Zodwa blouse, with cap sleeves and mandarin collar in pearly polyester, is great for a summer's day. A ¾ sleeve top with a cowl neck, provides a sophisticated look when paired with silky knit pants. As does an elbow sleeve flared top. If it's a little nippy, but not cold enough for a jacket, then opt for a long sleeve chic boxy blouse. Both the Misha long sleeve loose fit blouse and Cathy long sleeve classic blouse, pair well with wider leg pants for a corporate formal look.
Business Casual
The right silky knit white Tee, tucked into jeans or chinos with a pair of heels is a great business casual option. White Tunic style blouses, with long sleeves that are able to be rolled up, give you a relaxed, attractive look. Think about getting a white Carly camisole, with front pleats. It remains elegant while able to be worn as corporate casual, and when needed can be dressed-up for the evening.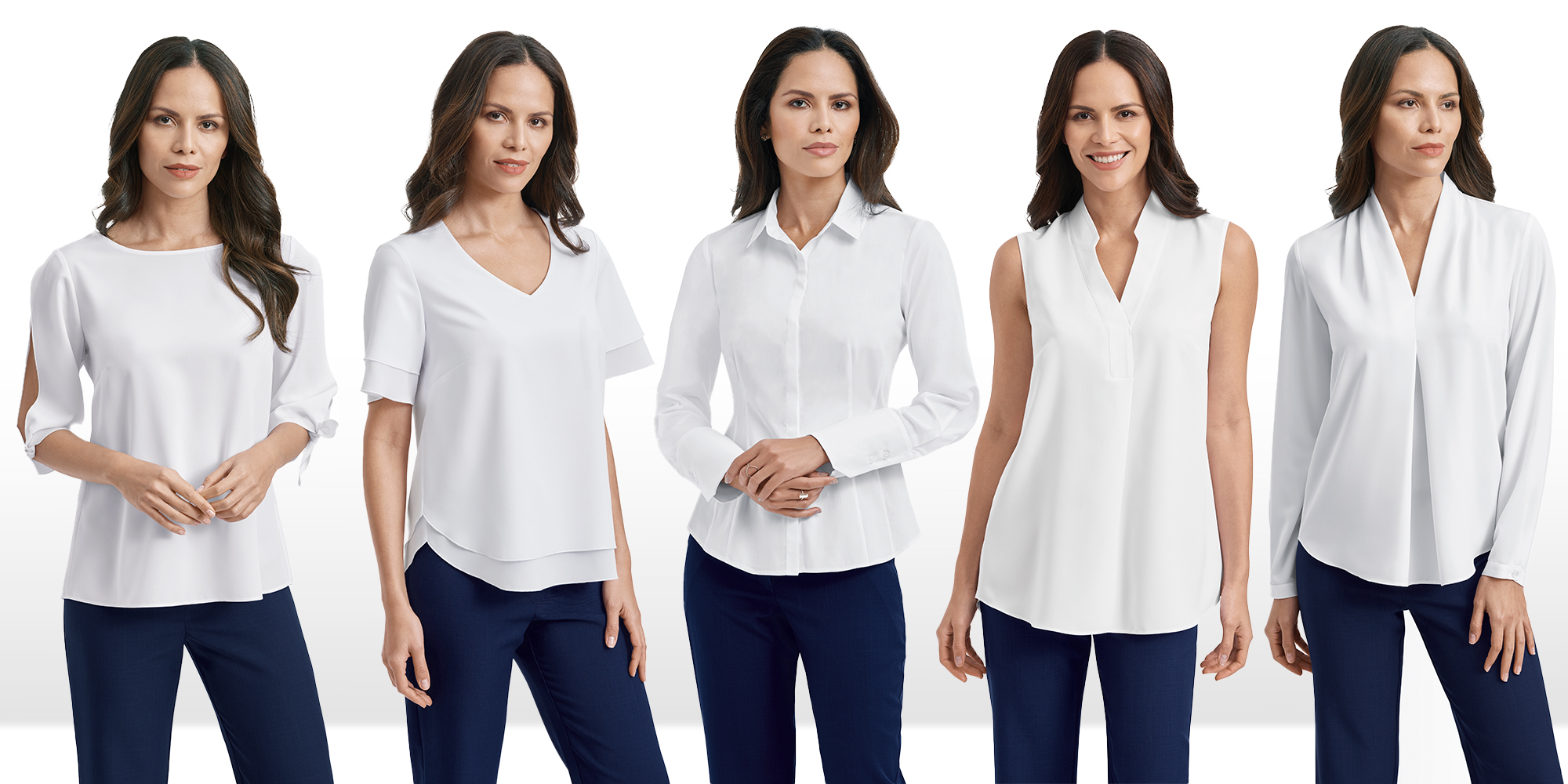 The Indispensable White Blouse
Given its versatility, a white blouse is an ideal wardrobe staple garment. And it's one that is going to give you endless hours of wearing. Which essentially makes it a strategic investment for your lady's corporate wear wardrobe. As well as a great starting point for your capsule mix-and-match wardrobe.