Bayhill Premier Cup Tournament
16 April 2022
Former president Nelson Mandela once said, "sport has the power to change the world". We are a proud sponsor of the City Kings youth football club. Our youth are our greatest treasure and we strongly believe that supporting our most vulnerable children will inevitably build a better future for our nation.
Arbour Day
7th September 2022
The Imagemakers team deeply cares about the state of the environment, not only do we stress printing less and saving paper, but we also made it our mission to plant trees, flowers and plants at the Haven Night Shelter.
Gifts & Toys for Children and Old Age Homes
08th December 2022
We take great pride in spending time with our elderly and youth at various children and old age homes. We often host fundraisers with our staff compliment of over 500 people and raise funds to purchase gifts and toys. The smile that brightens up their faces, lights up our week!
---
AMY FOUNDATION
R5 000 DONATED IN APRIL 2010
"The Amy Foundation is a non-profit organisation that offers programmes to develop and empower youth, ages 5 – 25, living in challenged and vulnerable communities within the Western Cape. The programmes place a focus on creativity by supplementing the shortcomings of the educational system in the townships of South Africa. The Amy Foundation aims to make learning enjoyable while also fostering the drive for academic success."
IMAGEMAKERS supported the foundation by donating R5 000 in April 2010.
HELP THE RURAL CHILD
R106 505 DONATED IN SEPTEMBER 2010
In September 2010, IMAGEMAKERS proudly supported the Help the Rural Child charity organisation, by donating 1 253 garments valued at R106 505.
The garments were to be sold in the charity shops the organisation runs, with the benefit of sales going to rural children all over South Africa.
THE RURAL ISSUE:
Poverty in rural South Africa is still widespread and children born into poor families often suffer from so many disadvantages such as poor health, poor diet, substandard housing, alcohol and drug abuse, inadequate parenting, lack of stimulation and domestic violence.
These sorts of hardships can have a permanent effect on children's life chances by inhibiting their development during those crucial early years. Without extra help and support they may never catch up and can end up trapped in the same destructive cycle of deprivation and disadvantage as their parents.
Poverty will not go away easily. Experience has shown that if we want to eradicate poverty then we must apply constant, sustained pressure, in a variety of different ways working with the whole family and the community.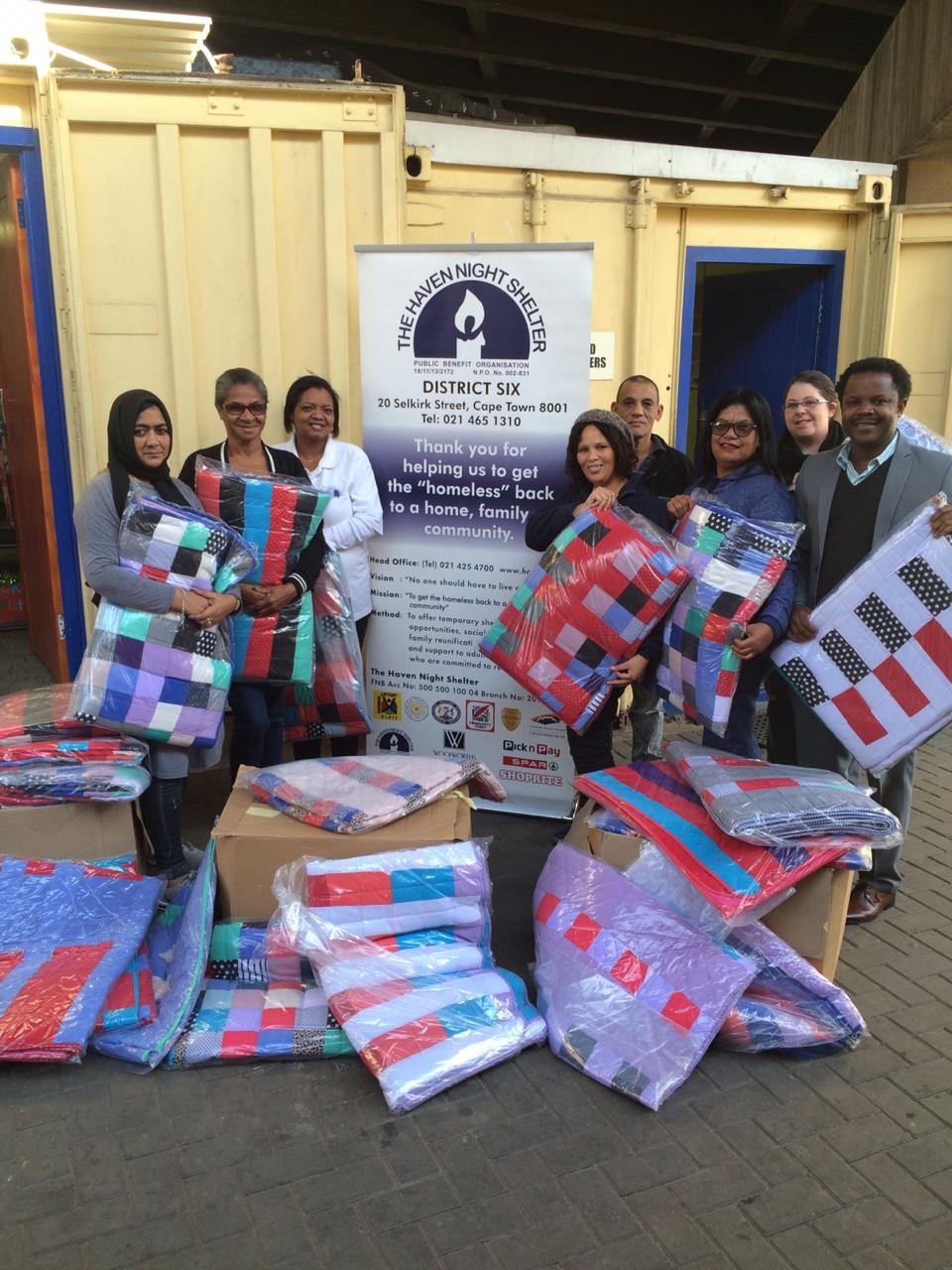 HAVEN NIGHT SHELTER
Blankets made by Imagemakers donated to the Haven Night Shelter
TEARS ANIMAL RESCUE
R1 000
"TEARS Animal Rescue (The Emma Animal Rescue Society) is one of the country's leading organisations; its mission is to rescue, rehabilitate and rehome domestic animals, as well as provide veterinary services to local communities.
As a pro-quality of life, registered, non-profit organisation, we rely on the support of caring individuals and corporates to assist us in fulfilling our mission to bring relief to animals in distress, whether through intervention, education, medical assistance or rehoming.
Located in the False Bay area of the southern Cape Peninsula, we typically serve the communities of Ocean View, Masiphumelele and Red Hill, Mountain View, Capricorn, although we assist animals and guardians throughout the Western Cape when our services are needed.
All the animals in our care have been abandoned, abused or neglected so following rescue, individuals are rehabilitated using best veterinary and animal behavioural practices to prepare them for adoption into new homes. An important part of TEARS' mission is to reunite lost animals with their guardians, and carry out a wider programme of veterinary outreach and humane education in our communities, that promotes the responsibility and burden of care we have towards the animals that share our lives.
CHILDHOOD CANCER AWARENESS MONTH
We proudly support CHOC and other organisations and individuals who work so hard to create awareness and raise funds for those in need.
For the month of September, all our staff members will be wearing a yellow beaded ribbon in support of CHOC.
OPERATION HYDRATE
R30 000
"A group of volunteers started #OperationHydrate in response to calls for water from Senekal. The call for assistance drove everyone.
The goodwill from South Africans has been amazing. Everyone is rallying behind #OperationHydrate and millions of litres of water has been distributed already. Massive Social media drove it from day 1. A whatsapp group was started by the volunteers and that's how it grew. Twitter, Facebook and Instagram drove it. Fly Mango, ShopRite and several other companies joined in to support the campaign.
Our aim is to get water to the areas that are most affected by the drought."
ADOPT A MISSION
R4 000
This faith-based organisation emphasises self-sustainability in the disadvantaged communities.
The goal of Adopt a Mission is to promote reconciliation and to create a platform for Church, Business, and Groups so as to facilitate entry into the disadvantaged communities for the upliftment, sustainable development and to move away from dependency, to self-sustainability.
Vision: Consistency with the emphasis on empowering underdeveloped communities through bridge-building, bringing together the more influential communities and groups to be involved at grassroots level without prejudice and with simplicity.
HAVEN OLD HOME BLANKETS
R3 500
The Haven Night Shelter was established in 1972 when members of the Green Point community decided to address the problem of elderly homeless people in Cape Town. In 1978 the first Haven Night Shelter was officially opened in Somerset Road, Green Point. The Haven Night Shelter provided cheap overnight accommodation to homeless peoples to protect them against adverse weather conditions and crime. In 1985, cottages were purchased in Aberdeen Street, Woodstock. This gave birth to The Haven Old Age Home. This was the second phase of the Haven Night Shelter Organisation and The Haven Old Age Home became permanent accommodation for elderly homeless people.
Initially the home accommodated 29 homeless people. By means of public donations, additional buildings in Essex Street, Woodstock, were purchased and converted into an old age home with a frail care centre. Haven Homes was officially registered as an Old Age Home in 1996 and is now home to 129 elderly people.
Goals and Objectives of Haven Home:
To provide health care services to the frail, in an effort to improve physical and mental health
To render professional lay counselling services to uplift and empower clients to self actualisation and self sufficiency
To establish participative practices in rehabilitation in conjunction with clients, their families and the community
To highlight and advocate for the plight of the destitute in general, to maintain effective and efficient management practices in the financial and human resources section of the organisation
To render preventative services to the older destitute person.
To reunite, link clients with their family of origin or look at alternative permanent accommodation which would enhance their functioning
To encourage participative practises with the community to enhance the social functioning of clients
To encourage the integration of clients into the community
ASSOCIATION OF WOMEN INSURANCE
R1 500 PER YEAR
The Association for Women in Insurance is a not-for-profit organisation. It was formed for the purpose of raising the awareness of the contribution professional women make to the insurance and financial services industry; and to provide professional women in the insurance and finance services industry with a much needed networking forum.
LUKE TREE OF LIGHTS CAMPAIGN
R3 500 PER YEAR
St Luke's Hospice's Tree of Lights ceremony is a unique remembrance ceremony that is held every year, where they string lights around the great pine at the hospice grounds in Kenilworth to remember and celebrate the memories of those we have lost.
SA GUIDE DOGS
R2 000 DONATED
As a well-established, Non-Profit Organisation, their mission is to enhance the mobility and independence of people who have visual, physical and developmental needs. Services provided include:
- Highly trained Autism Support Dogs - Highly trained Guide Dogs for the visually impaired - Highly trained Service Dogs for the physically disabled - Assistance to the visually impaired through orientation and mobility services to improve their independence
ST LUKE'S HOSPICE
R3 500 PER YEAR
IMAGEMAKERS supports St Luke's Hospice and has donated on six occasions.
"St Luke's Hospice provides palliative care to people who are approaching the end of their lives. A team of skilled professional staff and volunteers improves the quality of life of these patients through early identification, impeccable assessment and treatment of pain and the other physical, emotional, social and spiritual needs of the patients and their families. This is given, irrespective of the patient's ability to pay for the service."
HELDERBERG SOCIETY FOR THE AGED
R3 000 DONATED ANNUALLY
The Helderberg Society for the Aged, a registered non-profit organisation, celebrated 50 years of care for older persons in 2008.
Nestled in the heart of the Helderberg, with the Hottentots Holland mountain range as backdrop and a stroll on a lovely beach a few minutes down the road in the Strand, our residents are able to enjoy their retirement years in the compassionate care and security offered by the Helderberg Society for the Aged.
Older people are an important and valuable part of any community and the society strives to support each individual through care and service to ensure that each one is offered the opportunity to live a dignified life.
The Helderberg Society's goal is to provide quality care, whilst striving towards standards of excellence in caring for the older person.
For the past six years, IMAGEMAKERS has donated R3 000 a year.
SOMERSET HOSPITAL
R45 500 DONATED
IMAGEMAKERS donated R38 000 to Somerset Hospital. This helped them purchase a new X-Ray machine and R500 000's worth of new life saving equipment to be used in the Neonatal and Paediatric units.
On another occasion, IMAGEMAKERS also donated R7 500.
MEALS ON WHEELS
R600 DONATED ANNUALLY
IMAGEMAKERS has supported Meals On Wheels yearly for the last three years, donating R600 per year.
We believe strongly in supporting our country's senior citizens. Meals on Wheels For The Aged service makes a whole world of difference. Hundreds of voluntary helpers provide personal contact and deliver nourishing meals to the homes of struggling senior citizens throughout the country.
RED CROSS CHILDREN'S HOSPITAL
R3 000 DONATED
IMAGEMAKERS donated R3 000 to the Red Cross Children's Hospital's Oncology unit in Cape Town. The money was used to buy toys to cheer up their young patients. The toys were a great help in keeping the children occupied in their long stays within the hospital.
The Children's Hospital Trust is an independent charity organisation and the Fundraising Arm of the Red Cross War Memorial Children's Hospital in Cape Town, South Africa.
TTheir work includes the purchasing of life saving equipment, the building and upgrade of vital buildings at the Hospital as well as the development of the professional staff. As a non-profit charity organisation the Children's Hospital Trust relies on the generosity of our donors to help us. Since our inception in 1994 we proudly guarantee that 100% of all money donated to the Trust directly benefits the Red Cross War Memorial Children's Hospital.